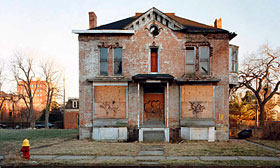 A sorry state of affairs.... see this UK investor's story...... (source: Citywire)
"Hi everyone,
This is my first post on here so here goes:
Last year I was naive enough to purchase a 3 bed property in Detroit, US.which was touted by the
selling agents here in UK as refurbished and with existing tenants and having a management
firm collecting rent and seeing to any maintenance, etc.so effectively a hands off investment.
I knew this was a bit of a risky first time
venture due to the location primarily, but somehow got blinded by the overall returns promised. I managed to receive rent for about 6 months. The tenants at that time wrecked and destroyed the whole house causing damage estimated to be nearly as much as what I paid for the property. Obviously the property management firm in Detroit deny any liability or responsibility. Consequently the property has been vacant since the start of this year and now boarded up.
I did not have any insurance on the property for the good that would have been as it would have been very restrictive and not covered that type of risk. I realize that it would be almost futile to try
and get whoever is responsible to pay damages in another country.
So now, because I cannot afford to have the property repaired, I just want to cut my losses and be
rid of it as I still have to pay their property tax and other maintenance fees as well as the
US tax returns. Unfortunately it would be very hard to sell the property in its present condition.
The
only solution I have been offered so far is to transfer my name to a limited liability company, the benefits of which are not quite clear to me. I do not have any liabilities
on the property (no mortgage or bills, etc) I am now at a loss on what to do next .
Can anyone shed any light on this? Any form of advice which might lead to a satisfactory solution, is greatly appreciated.
Sorry it is so long winded.
Thank you
BM"